Every time you eat is an opportunity to nourish yourself.(click to tweet)
Somedays (everyday?) you just need a quick, easy, clean recipe.You likely cook with olive oil once in a while, but have you tasted the deliciousness that is coconut oil stir fry?This could easily be your next #MeatlessMonday dinner. Oh, and coconut oil has a long list of health benefits. See below!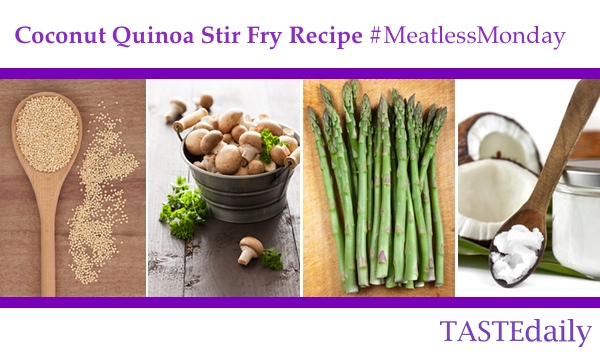 The ingredients (a short list!):* 1 cup of mushrooms* 1 bunch of asparagus* 1/2 red onion* 2 tbsp of coconut oil* 1 cup of cooked quinoa* pepper, salt, garlic, and a dash of cayenne pepper to taste* optional: nutritional yeast sprinkled on top of your finished dishThe step-by-step:Chop all the veggies and melt the coconut oil in the skillet. Stir fry the veggies and mix in your spices. Toss the veggies to make sure they are covered in coconut oil. Remove from heat while the asparagus is still crisp. Spread a spoonful of cooked quinoa on a plate. Lay your stir fried veggies on top and add more spices. Nutritional yeast is optional but a great source of B vitamins!Just a few of the reasons why coconut oil is awesome…This heart-healthy oil helps the body resist illness and positively affects hormones for thyroid and blood-sugar control. Coconut oil can increase metabolism, energy, endurance, and digestion. Consuming coconut oil regularly can also reduce abdominal fat. (Dr. Oz)XOOh, by the way
---
PS: Just breathe... 3 ways to bring meditation into your everyday life. Read here.