Remember the first time someone called you bossy?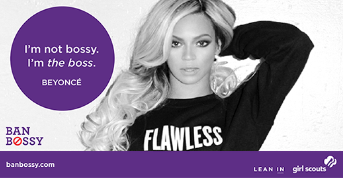 LeanIn.Org and Girl Scouts of America have partnered to ban the word bossy for the next generation of girls.Rock. On.As Jennifer Garner stated, when a girl is told she's bossy, she's being told "to be quiet."Not-so-fun-fact… In between elementary school and high school, girls' self-esteem drops 3.5 times more than boys'.What's Going On?? Here are a few things going on...The Chore Divide: In many households, chores typically performed by a girl (washing dishes) are paid less than chores her brother performs (mowing the lawn).Take action: Don't let the wage gap start at home.The Airtime: In class, girls are called on less and interrupted more. Girls are getting less airtime.Take action: Implement a 'no interruptions' rule, so that all children have an equal opportunity to speak. The Stigma: Girls are twice as likely as boys to shy away from leadership roles for fear of being labeled "bossy."Take action: Words are powerful… Ban the word bossy from conversation. #BanBossyReady? Join the movement here and pledge to #BanBossy.XOOh, by the way
---
PS: 
Beat the drum loudly... 
Makers
 (the women who make America!) is launching their 6 part docu-series in June. Get psyched and 
watch the original documentary here
. Yup, that's Meryl Streep narrating.